Pure Revolution Products
In today's business environment, the quest for a competitive advantage leads in many directions. Don't overlook the obvious – it could be in the water. In the competitive world of water filtration systems, one system's patented innovation makes it the technological leader. Demand the best: PureOFlow
™ .
The PureOFlow™ RO System does much more than save you money. It removes scaling minerals and gives you the same quality taste of bottled water. Coffee, tea, and even ice cubes will have an enhanced taste.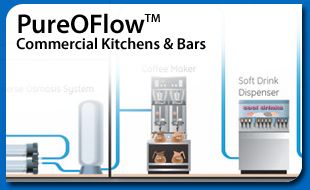 PureOFlow Advantages
Crystal clear ice cubes for patrons
Ice makers last 4-5 times longer
No scale in pots, coffee makers, steamers or dishwashers
Use less alcohol in drinks
95% reduction in steamer cleaning
85% reduction in evaporative cooler maintenance
Truly spot-free glasses and tableware
Kitchens & Bars. Food service environments with the reverse osmosis system enjoy cleaner water in coffee makers, soft drink dispensers, dishwashers and ice makers, resulting in crystal clear ice cubes, less cleaning and maintenance and spot-free glasses and tableware.
Contact High Peaks Water About PureOFlow
For a free survey to find out if PureOFlow™ is right for your eating establishment contact High Peaks Water Services today at
602-277-7208
or submit your PureOFlow
™ inquiry on our
Contact Us
page.